Salon International 2023 Recap: A Weekend We'll Never Forget
Check out how we celebrated 50 years of Salon International in true Directions style…
THE event on every hair-lover's calendar is over for 2023. And while we hate to see it go, we had such an amazing time that we had to tell you all about it!
We'd like to thank everyone who stopped by our biggest, boldest and brightest stand ever – the show-stopping stand and huge elevated banner made us impossible to miss! It was wonderful meeting so many people over the weekend, and we hope you got your hands on some exclusive offers and show deals.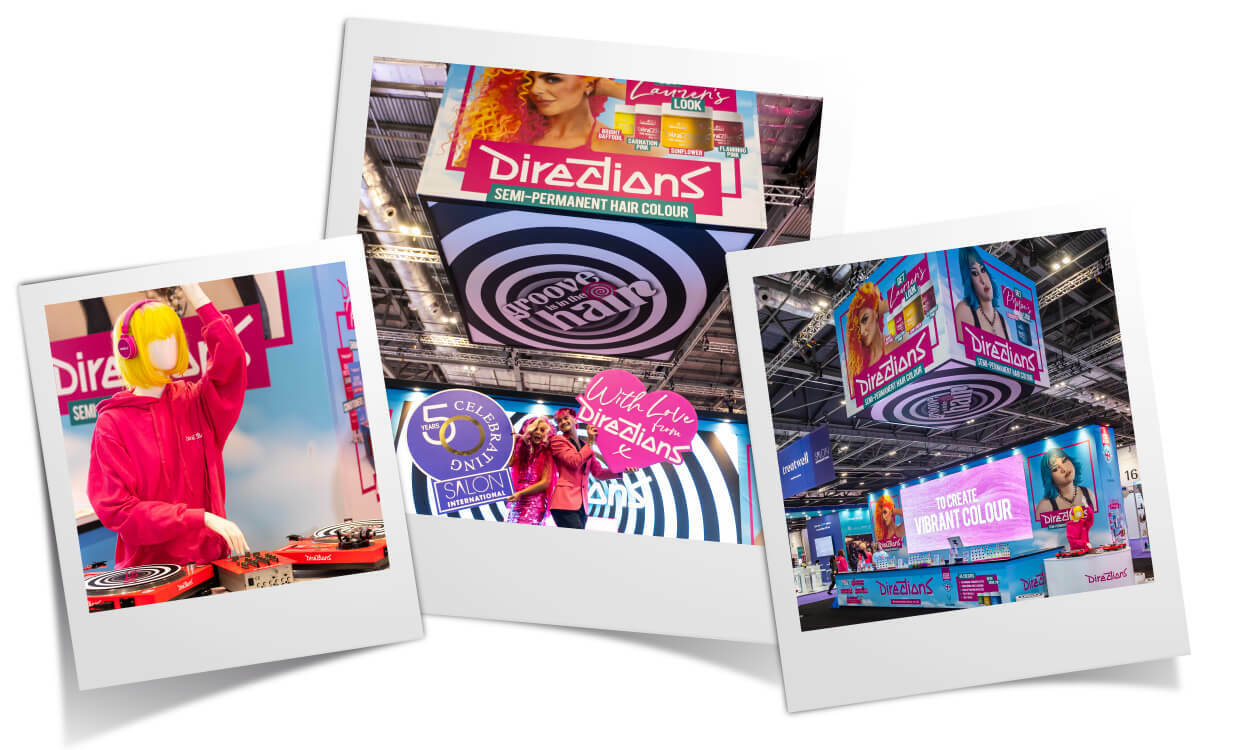 But if you weren't able to make it to Salon International's 50-year anniversary, or simply want to relive the event with all the colour, music and sights, here's our recap of everything that went down at Destination Directions…
Our most sensational stand EVER
You know for Salon International's big 5-0, we had to pull out all the stops! This year we went the extra mile to make our stand as colourful, eye-catching and exciting as possible – from back-to-back tracks from our Directions DJ, to live demonstrations and professional photoshoots throughout the weekend.

Alongside our special show deals, we also gave away a ton of fans and shopper bags, making sure everyone who stopped by our stand stayed cool and colourful.
Of course, the showpiece of our celebration of colour creativity was the premiere of our fifth short film 'Groove is in the Hair' – a funk-filled party, brought to life by our one-of-a-kind Directions community.
Starring six real-life models, including our very own colour ambassador Lauren, it was brilliant to see such a great response to our latest production. We hope it inspired you to embrace your individuality and dance like no one's watching!
Couldn't make the premiere? No problem – click here to read all about it, watch the short film, as well as exclusive BTS footage and see where you can shop featured shades.

Must-see live demos
It wouldn't be a Directions event without inviting talented stylists and colour experts to work their magic with our standout shades.
Across the weekend we hosted exclusive demos from some outstanding colourists and industry educators – and picked up some top tips and insights on how to achieve their unique, stunning styles.
First up was Paco Latorre (@pacolatorre), showing us how he was able to produce "The Unicorn" look on our gorgeous model Wendy (@bluebellswan).
Supported by Javier Jerez (@javierb_j), Paco used a beautiful blend of Carnation Pink, Pastel Pink, Wisteria, Fluorescent Lime and Lagoon Blue to obtain this truly legendary look...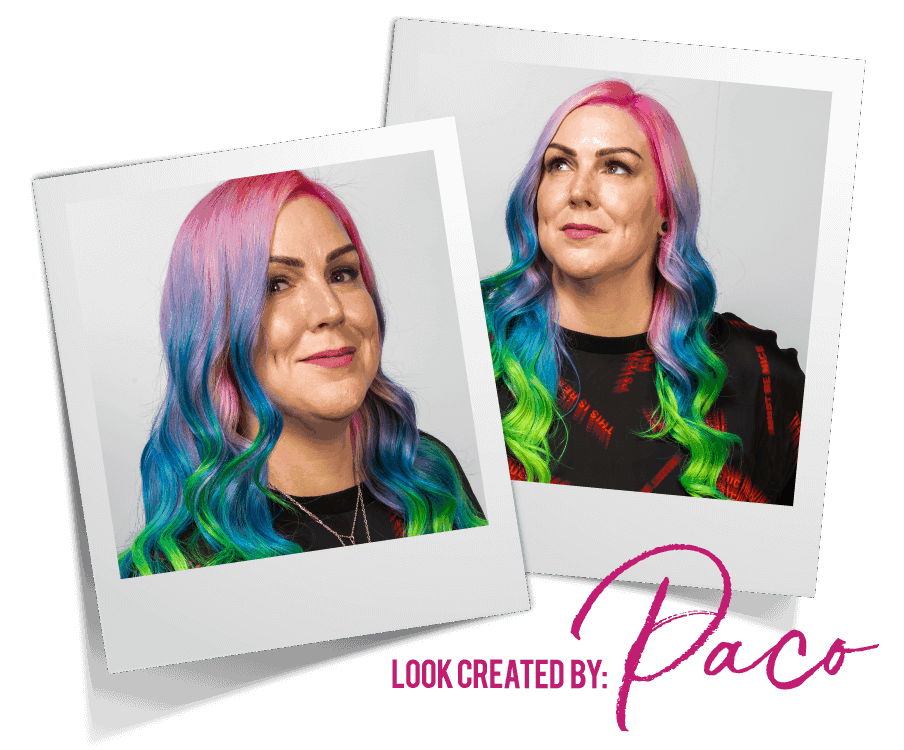 The sensational colour educator Georgia Bell (@georgiabellhair) also stopped by to give model Nadia a fresh new style. Combining SIX of our standout shades – Violet, Lagoon Blue, Flamingo Pink, Fluorescent Orange, Sunflower and Spring Green – Georgia created a brand-new head-turner for her collection...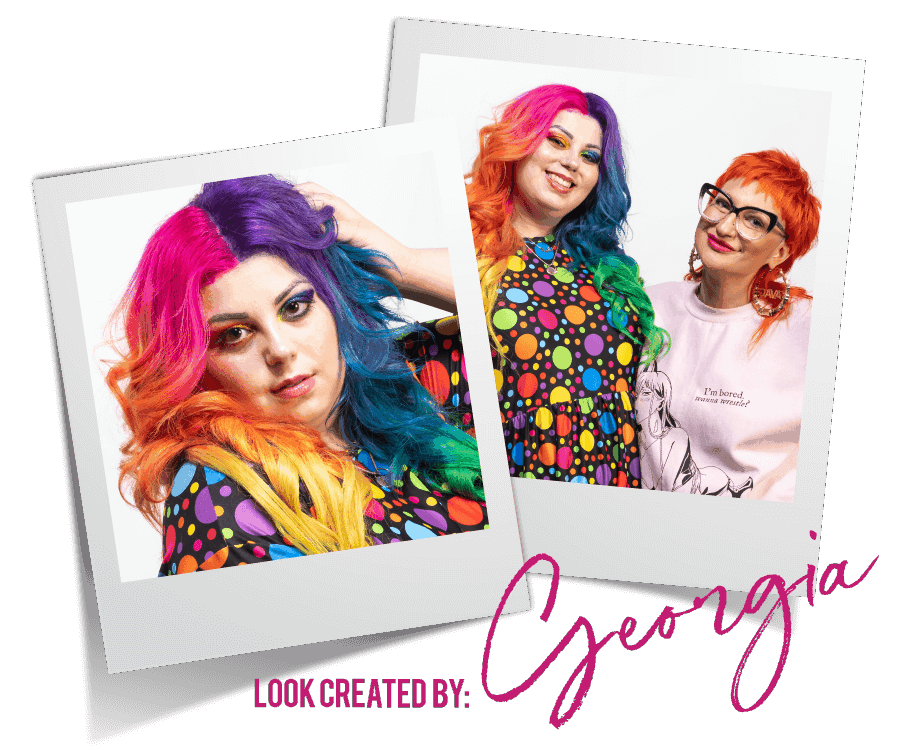 We were then joined by our wonderful Directions ambassadors from @vanitydollsalon who turned the volume up to the max! Their colour expert Ruth and creative stylist Amy refreshed our colour ambassador Lauren's locks with plenty of pink power.
A blend of Rose Red, Pillarbox, Flamingo Pink and Carnation Pink went into this larger-than-life style, which Lauren paired perfectly with her captivating custom hair outfit...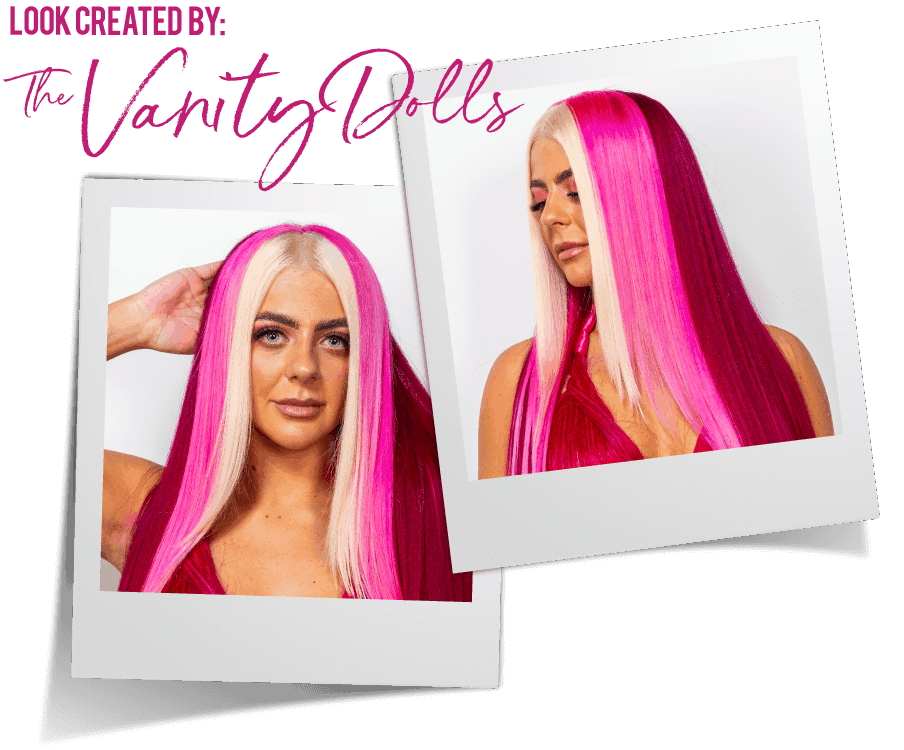 Finally, on Monday, colour specialist Jaymz Marsters (@jaymz.marsters) took to the stage for a number of live demos, showing all the student guests how to make their customers' colours shine...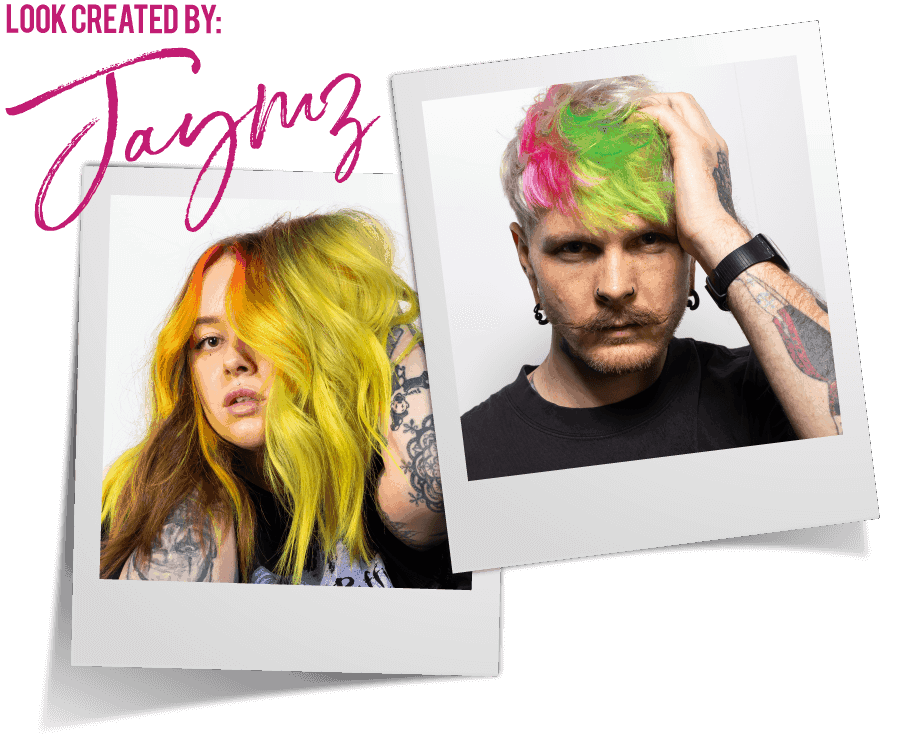 Strike a pose
Did you manage to step into the spotlight of our pop-up photoshoot studio? Our resident professional photographer was busy all weekend capturing the individual colours and looks of our ambassadors, models and, most of all, our fabulous customers!
Keep your eyes peeled on all our social channels – Insta, TikTok, Facebook and X – to see if you can spot yourself on our feeds!
Celebrating 50 years of hairdressing heroics
After a number of years exhibiting at Salon International, it was a huge honour to be part of this special event's golden anniversary. For 5 decades this has been THE annual destination for the best and boldest in the world of hair, and we are proud to have played our part in this remarkable story of innovation, creativity and excellence.

That's a wrap…
For now, it's time to say see you soon to Salon International. But we can't wait to be welcomed back again next year – so if you like what you've seen here, avoid the FOMO and stop by the Directions stand next year. 2024… watch out, here we come!
Again, a huge thank you to our Directions community for coming along in full force to support us this weekend – we loved every second of your company!
Make sure you're following our socials to see more exciting footage from this year's event. And, don't forget to share any of your own photos or videos from the weekend – be sure to tag @directions_hair_colour or use #directionshair so we can give you a shout out!
Until next year… 👋🏻