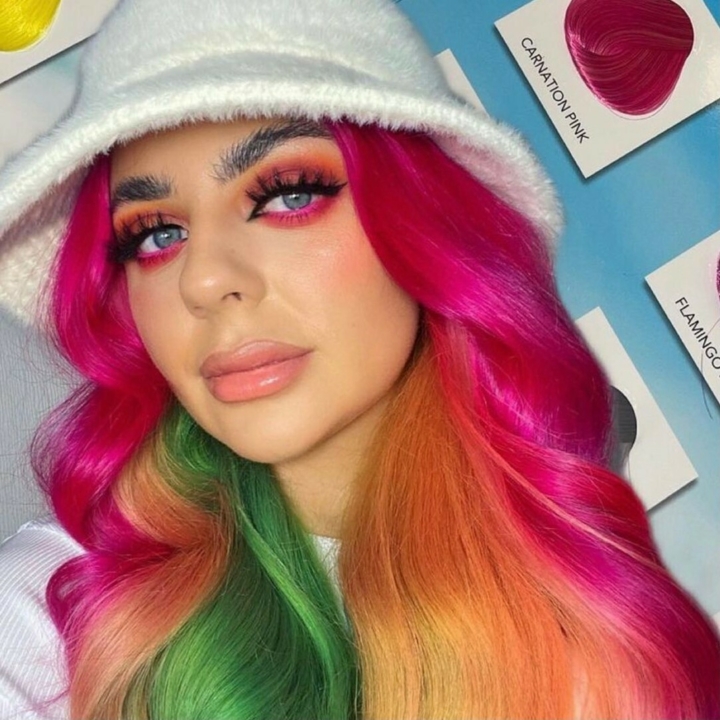 How to Achieve Hair Colour Perfection
Your essential checklist
Colouring hair at home is a great way to save money. However, it can be daunting for first-timers – hairdressers and stylists go through a lot of training for a reason!

Check out our home hair colouring guide with all the basics covered, but if you're an absolute perfectionist and want all the tips from the top, then this is the guide for you!
Get professional results, without the salon price tag
1. Preparation

Have the right amount of tubs
If you're wondering how many tubs of Directions you'll need to get the best coverage, go by our rule of thumb: we recommend one tub for hair that's shoulder length.

Apply Pre Colour Shampoo
Directions Pre Colour Shampoo has been especially formulated to give you soft, shiny and manageable hair to work with.

Make use of multiple mirrors
While you'll no doubt want to admire yourself from all angles once your vibrant new look is in place, this tip is about practicality, not vanity.

Read the instructions
Whenever you're looking to try out a new colour, spend some time browsing the instructions so you're perfectly prepared.

Brush and dry hair properly
Knots in hair can obscure certain strands and result in areas being missed. Tackle any tangles early on to leave your hair in the best state for complete coverage. No knots – no problem!

Test and test again!
First, do a skin patch test to avoid any irritation or allergic reactions. Then, do a strand test on a small, hidden section of hair to find out if the colour will come through as you expect.

Section out your hair
Divide your hair into multiple segments using hair clips or bands so you can get full colour coverage of your hair.

2. Keeping colour on your hair
Wear loose-fitting, protective clothing
Avoid wearing your favourite shirt or dress and instead stick to old clothes you won't mind getting a little messy.
Have an extra pair of latex gloves
You don't just need to wear these for applying your colour – you'll also want to have them on when you're rinsing to stop your hands getting stained.
Protect your surroundings
Use old towels or clothes to protect floors, walls and carpets. But, if you don't want to waste any of these, bin liners, newspapers and other materials can offer great cover for your surfaces.
Cover and clean your skin
Covering your hairline, neck and ears with vaseline or petroleum jelly will make excess colour far easier to clean off later on.
Make use of Directions accessories
Perfect hair colouring is all about precision. Approach it like a professional with a bowl and a brush to mix and paint on the colour. This makes colour mixing easy and less messy!

3. Extending your range
Try out multiple colours at once
One colour not enough? If you want to embrace every shade of the rainbow and beyond, make sure the different sections of your hair are washed and dried separately.

Create dreamy pastel colours
Diluting your chosen colour with white toner or conditioner can introduce you to a whole new selection of pastel shades.

Get professional help to go lighter
The level of your hair might restrict the number of colours you can apply and how successfully they come through. Speak to your hairdresser about options for lightening your hair, before you get to work with the colour at home.

Experiment with colour mixes
Did you know that you can mix Directions colours together to make your own unique shades? Craft your own colours and share your results with us – we love to see people getting inventive with our vibrant range!

4. Preserving your colour
Pay close attention to your roots
Always start from your roots when colouring your hair, as this is the area where regrowth will happen fastest and is the least damaged part of your hair.
Use specific colour-preserving shampoos and conditioners
Not all shampoos and conditioners are created equal, and some are far from friendly for coloured hair. Directions Colour Protecting Shampoo and Directions Colour Protecting Conditioner are both formulated especially for this purpose.
Shampoo less regularly
Over time, any and all water or shampoos on your hair will cause colour to fade away faster.
Wash with cold or lukewarm water
When you do have to brave the shower and put your hair on the line, wash with cold or lukewarm water. Colder water will keep your hair cuticles closed up, stopping colour from running out as quickly.
Protection from swimming and sunlight
Bad news for swimmers and sunbathers – hair colour doesn't react well to either of these. If you really care about your colour that much, then sun hats, swimming hats and UV hairsprays are highly recommended.

Love your colour

The vibrant range at Directions offers the best selection for honing your DIY hair colouring. Fall in love with the collection here.