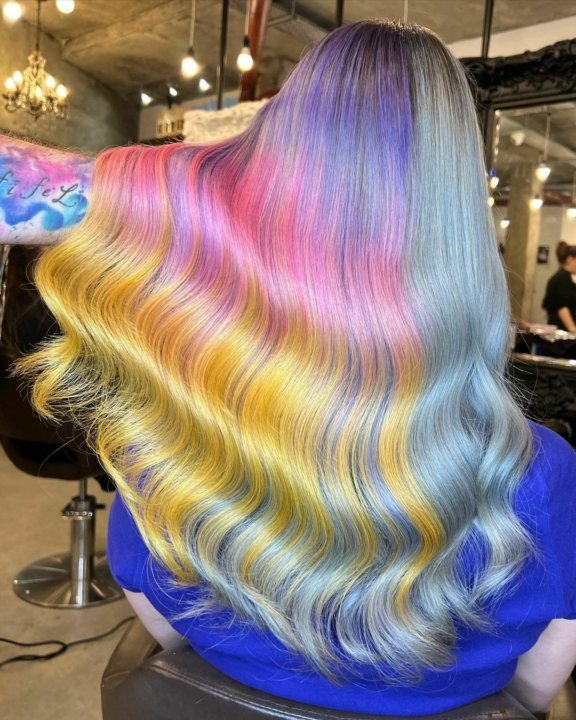 How To Introduce Clients to New Colours
Directions Hair Colour salon ambassadors' give us hints & tips in introducing clients to new colours
As we move forward in the new year, you might have some different New Year's resolutions for yourself and your salon. You might be motivated to try out some new colours from the Directions range that you're yet to use, or you may be completely new in wanting to work with vivid shades.
We've asked our salon ambassadors to give us their hints & tips in introducing clients to new colours successfully, so you can get your creative juices flowing throughout 2023!
@pacolattore, creative director of Live True London, tells us how he speaks often with clients about new trends when they pop up in the industry. He'll give honest advice about whether these will suit them or not, making sure to give examples that can be seen on influencers. Paco particularly relies on social media to find these examples, showing the importance of having a presence on there as an educator to clients. He also tells us how asking clients about their favourite celebrities can further be a great influence in helping clients find their next colour and look.
@_hairbypoppy, Salon Owner of root66haircare, says how she evaluates a client's existing likes & dislikes when it comes to colour. For example, she wouldn't recommend a red shade to a client who wants a long lasting, low maintenance colour. Her suggestion is always finding a shade that's realistic to your clients needs, such as a light blonde customer can be recommended Directions' pastel shades - which client's with a darker base will need to prepare the hair before the use of these. Poppy also tells us how you can look at your client's features; matching a colour that will compliment their eyes or skin tone!
@taylordcreationss, owner of Taylor'd Creations Hair Studio, starts by saying when recommending vibrant colours it really depends on what base your client currently has and where they're interested in going next with their colour. For clients that are completely new to semi-permanent shades, Taylor likes to create a colour placement to start them off and then build up from that if the clients enjoying the shade. Similarly, if an existing colour client wants to try a new shade, then she will suggest adding placements of the new shade within this to then see if the client wants to commit to the new one fully.
Like what you're reading and want to see some more inspiration? Get following our ambassadors on social media, to keep up to date with all their #DirectionsHair work.