Salon International 2023: We're Back!
It's THE event on every hair-lover's calendar – the countdown to Salon International 2023 is on, and in true Directions style, we're planning a spectacular return!
We're so excited to be returning to ExCeL London on October 14-16 and to see you all – we love Salon International's incredible atmosphere! This year we're going bolder, brighter and bigger than ever before.
Now when we say bigger, we mean BIGGER. We've gone all out to make our stand as striking as possible so that you'll easily spot us from any corner of the exhibition floor.
This means that there'll be no need to know our stand number – simply follow the huge suspended billboards featuring our Colour Ambassadors Lauren and Pippa's stunning looks. Our stand awaits you, right below – you can't miss us!
…We have so much in store for you!
Live colour demos by leading experts
If you want to know how to maximise our Directions colours, then you're going to love our Salon International colour-style demos. We're bringing some of our favourite stylists to our stand for a series of live demonstrations and salon masterclasses. We'll even be holding live photoshoots on the stand to showcase our amazing models after each demo.
Get ready to pick up plenty of top tips and expert insight from some leading hair colour professionals. We've got an incredible lineup across the weekend, so stay tuned for the latest announcements closer to the event…
The premiere of "Groove is in the Hair"
Our fifth and latest short film "Groove is in the Hair" will have its big debut on Day One of Salon International. Starring six real-life models – including our Colour Ambassador Lauren – this vibrant, energetic, dance-party style video is the perfect way to launch this wonderful weekend of colour.
After the premiere, we'll be playing 'Groove' on our giant screens all weekend, so come along, watch the film and meet some of our star ambassadors.
Want to know more? Read our recent article premiering "Groove is in the Hair" for a little teaser.
Live performances from our Directions DJ
Speaking of groove… Our Directions DJ will be setting the soundtrack to this showcase of colour creativity. Hear them on our stand all day, every day!
Meet our colour ambassadors… or become one?
Our Colour Ambassadors Lauren and Pippa will be here in person across the weekend to meet our fantastic customers. Stop by to say hello, grab a selfie and ask them about how they achieve their iconic looks.
Plus, we're always looking for people who live and breathe Directions. Our professional photographer will be looking out for anyone rocking our bold shades and styles. If you'd like to model for us and display your unique style on our social platforms, this is your chance!
Amazing limited-time offers and giveaways
Of course, no exhibition is complete without a bag full of goodies to take home with you! As well as giving away a ton of specially made fans, we're marking the occasion with a series of special offers you won't want to miss…
Barber Bundles
For our hairdressing pros, just £15 will get you:

4x hair colour tubs

1x lightening kit

1x coloured tint brush

1x mixing bowl
(Show RRP £20 / Normal RRP £33.99)
And on Saturday and Sunday only, £25 will get you:

2x hair colour tubs

1x hair lightening peroxide

1x hair lightening bleach

1x swatch chart

1x tint brush
(Show RRP £30.50 / normal RRP £49.50)
Student Bundles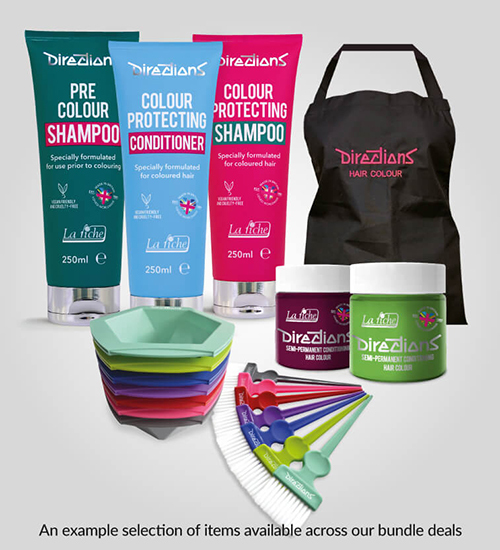 Hairdressing students – on Monday 16th we'll have a number of special discounts especially for you…
£10 Pack:

2x hair colour tubs

3x colour care shampoo

1x mixing bowl

1x matching tint brush
(Show RRP £14 / normal RRP £20.47)
£20 Pack:

1x hair colour tub

3x colour care shampoo

1x hair lightening kit

1x black tint brush

1x apron
(Show RRP £25.90 / normal RRP £37.45)
£25 Pack:

2x hair colour tubs

1x hair lightening bleach

1x hair lightening peroxide

1x apron
(Show RRP £29 / normal RRP £41.99)
Lecturer Goody Bags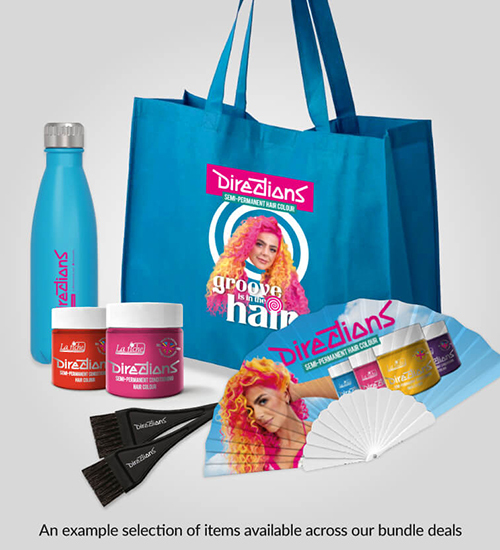 That same Monday we've also put together a unique goody bag for hard-working lecturers, including:

Tote bag

Water bottle

Fan

2x hair colour tubs

Tint brush
Wholesale Discount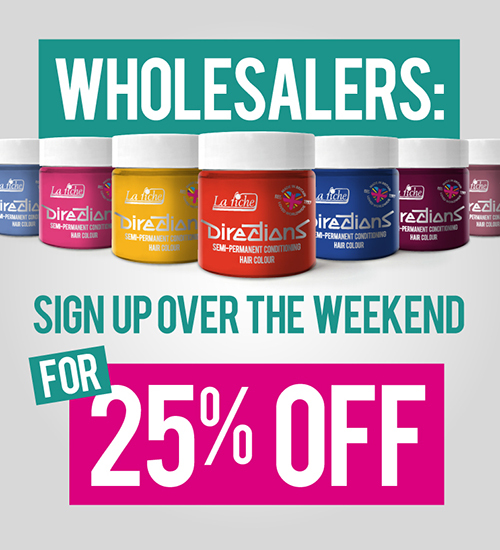 If you're impressed with what you see, we'll be offering a limited-time 25% discount code for wholesalers who sign up and place an order over Salon International weekend. Make sure you hop onto our website over the event and discover the savings you could make…
We love meeting you!
Salon International always creates lasting memories for us every year we're involved. We love being part of this special event, and love this opportunity to meet you, our loyal customers, and our faithful community of hair professionals. Come and say hello!
Make sure you're following us on all of our socials for the latest updates as the big day approaches. Until then, we'll see you in October!