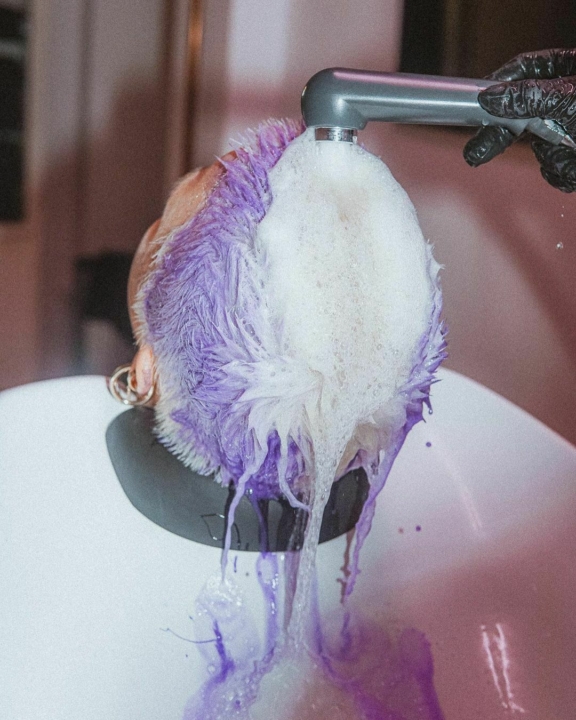 How to Remove Directions Hair Colour
Want out? Your guide to faster hair colour fading
We've all been there – for one reason or another, there have been occasions where we've wanted to get the colour out of our hair as quickly as possible. And as you're reading this, you probably feel that way right now too.
When your current colour's not clicking, here's how to make it fade away fast
Here you'll find 6 effective ways to speed up the fading process and cut out the colour from your hair (without literally having to cut it out!).
TOP TIP
Not all colours will fade at the same rate – reds and blues can be particularly stubborn colours – so keep that in mind when deciding how you'll accelerate your fade.

1. Wash, wash and wash again!
Our first tip is to basically do the opposite of our advice in our ultimate hair colouring guide – wash your hair with shampoo as often as you possibly can.
The more you wash it, the more the water will gradually dilute the colour and speed up the fading process.

2. Use clarifying or anti-dandruff shampoos
When you're doing your extra washes, you can speed up the fading further by sticking to either clarifying or anti-dandruff shampoos.
Unlike our specially crafted colour-protecting shampoo, these types of shampoo are typically stronger, meaning they will strip out hair colour far quicker.

3. Coat on the conditioner
After the shampoo, it's time to work in the conditioner. Again, avoid any colour-safe conditioners and stick to products that use salts and sulphates.
Apply it to your hair and comb it through to reach every strand. Let it sit for 30 minutes, and then rinse it away.
4. Rinse with hot water
Hot water opens your hair up to allow the colour to slip away far sooner. After plenty of steamy showers, you should start to see your natural shade come through past the colour.

5. Attempt a colour correction
A colour correction is where you apply a diluted amount of colour from the opposite end of the spectrum to the shade on your hair, which can help to cancel both out (green and red, for example).

It's crucial to note though that this should only be done to colour that has already faded out significantly. If it's not faded, mixing these colours could create a muddy brown effect.

6. Speak to your hairdresser
The safest and most sensible option is to head to your favourite salon and talk to a professional colourist.

While this will obviously come with a cost, you'll get the assurance of having someone who totally understands what to do to help get colour out of your hair.

One colour out, another colour in
We hope that these tips allow you to rid your hair of any unwanted colour, and introduce a hot new look as soon as you can.
Fortunately, you're spoilt for choice at Directions to freshen up your soon-to-be-faded hair. With 46 intense colours across our fabulous range, you're sure to find your next "glow up" with us.
Check out our incredible colour collection today.
Header credit - IG @der_scheitel x @vanessatoepfer x @chiarabaluch x
langsamlieben