What Happened at Salon International 2021?
Highlights and best bits at your finger tips
Were you unable to attend Salon International this year and feel left out on all the fun that happened at the Directions' stand? Well you don't have to be! We've done the work for you and summarised our fave moments from over the weekend and also included some unseen snaps to help you lose that fear of missing out.
Directions Hair Colour Highlights at Salon International 2021
With the hair industry having one of the biggest impacts from the COVID-19 pandemic, having all of us hair-crazy people mixing at big events felt almost impossible... but Salon International 2021 brought us all back together and we couldn't have been more excited to see you all once again!
However, if you missed us, don't feel left out! Read on to find out about all the best moments and the team's highlights from over the colour-filled weekend in October.
Meetin' & greetin'
On Sunday and Monday of #salon21, the Directions team were lucky enough to be joined by THE make-up expert, BBC's Glow Up contestant and the all new Directions Ambassador, @jackoliverx.
Jack rocked their Fluorescent Green and Fluorescent Lime mullet whilst snapping some photos with fans at the official Directions' selfie stand and chatting to everyone who stopped by our stand on all things #Directionshair. We even saw them getting their sale assistant on behind the counter!
If you were lucky enough to get a picture with the make-up master, make sure to share it with us on socials and #faceof22 in your captions, for the chance to be next years face of Directions.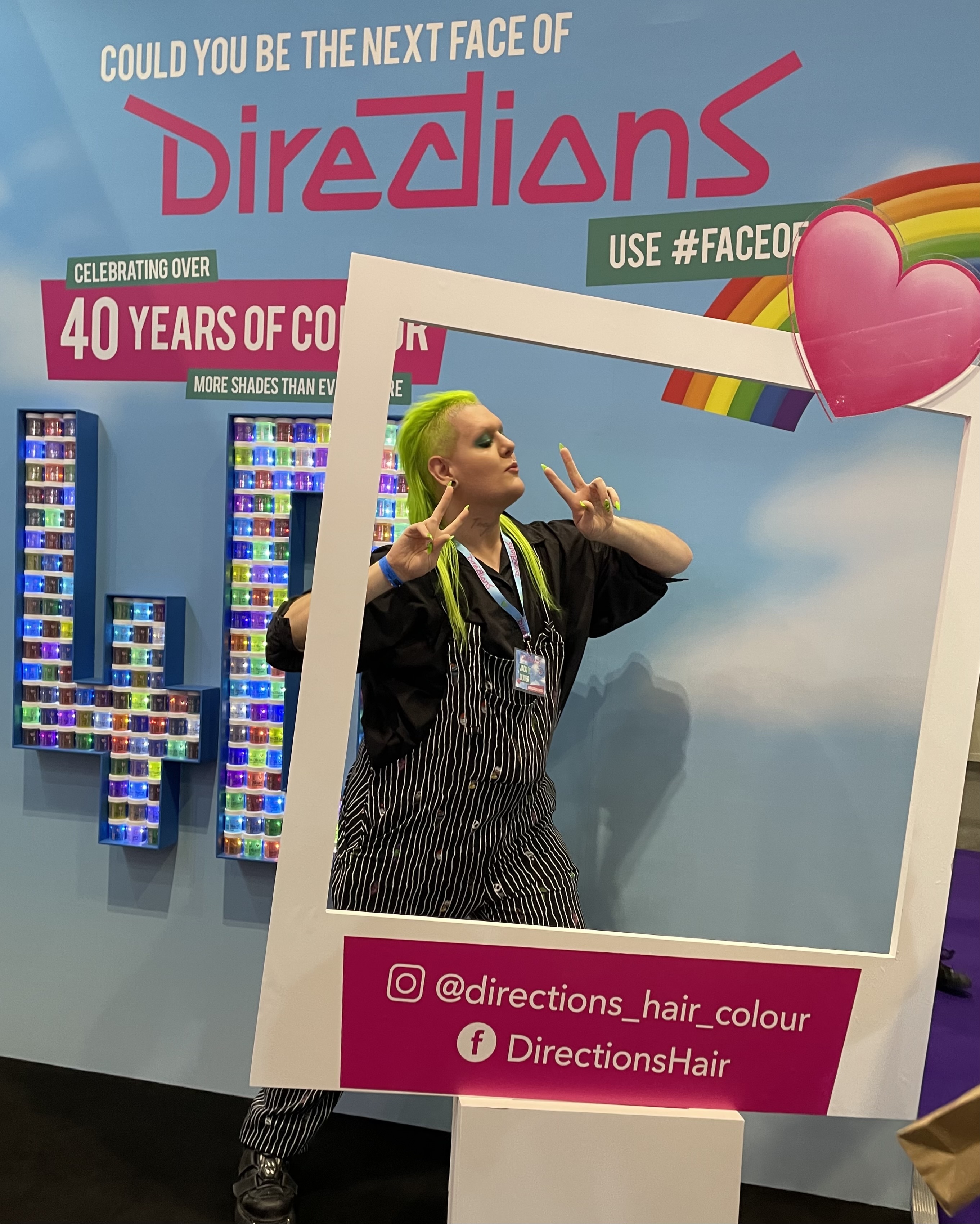 True Colours debut
Throughout the whole weekend we also had the debut of our short film 'True Colours' looping round on the big screen at stand R170.
With the colourful cast in attendance and so many attendees stopping to watch, the exclusive reveal was a great success! With the particular favourite being the behind-the-scenes shots, showing all the fun our models and crew had on the Directions set.
We can't say much more without spoiling it, but if you weren't there to see the sneak peak, then make sure to keep an eye on our socials this November for the worldwide launch of 'True Colours'...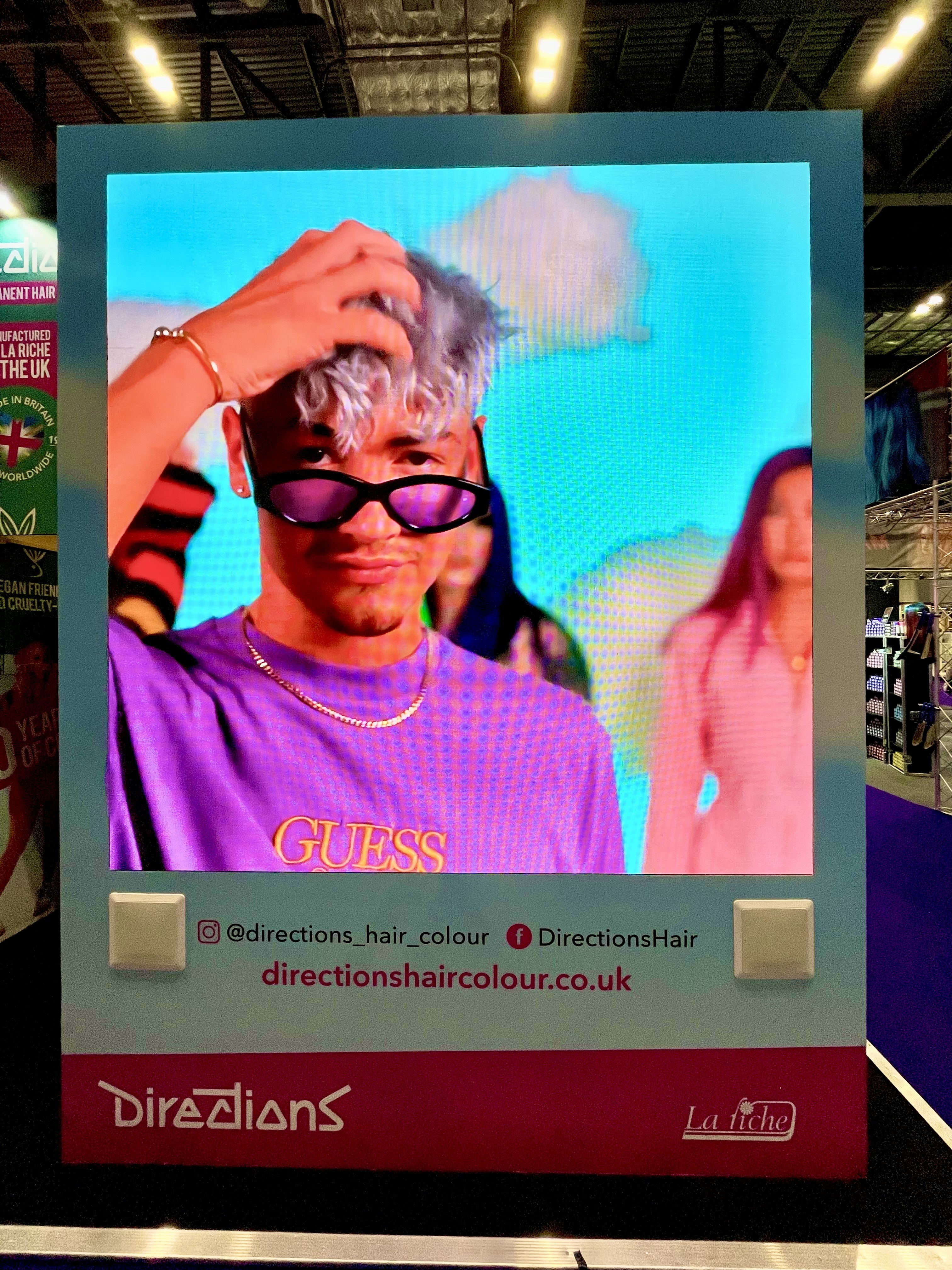 Rainbow Demonstrations
It wouldn't be a Directions Hair Colour event without our official ambassadors Vanity Doll Salon showing off their creativity with our much-loved colours.
Amy worked her magic by performing a very aesthetically pleasing demo on Lauren's rainbow mane, which had all passer's by stopping and snapping up the satisfaction. If you were there, did you recognise any colours in Lauren's hair? From Cerise, to Sunflower, they had the original and new range covered.
If you missed our live video of this at the time, education on how to style your Directions hair-do's the right way can also be found on the @directions_hair_colour or @vanitydollsalon feeds!
Live Performances
We couldn't have had a birthday celebration without a live performance from the incredibly talented and Directions' loyalist @jazz_mino_uk. The crowds we're in at stand R170 as Jazz and guitarist David Gulliver lent us their fantastic vocals and talent on the Sunday of Salon International.
As well as her voice, Jazz was also showing off her latest cute hues; using Lilac, Pastel Rose and White Toner to create another iconic Jazz Mino look.

If you were lucky enough to see the set, you may have also been lucky enough to get a glass or two of prosecco, as we really got the birthday vibes in full swing! But in case you weren't, head to Spotify now for a listen.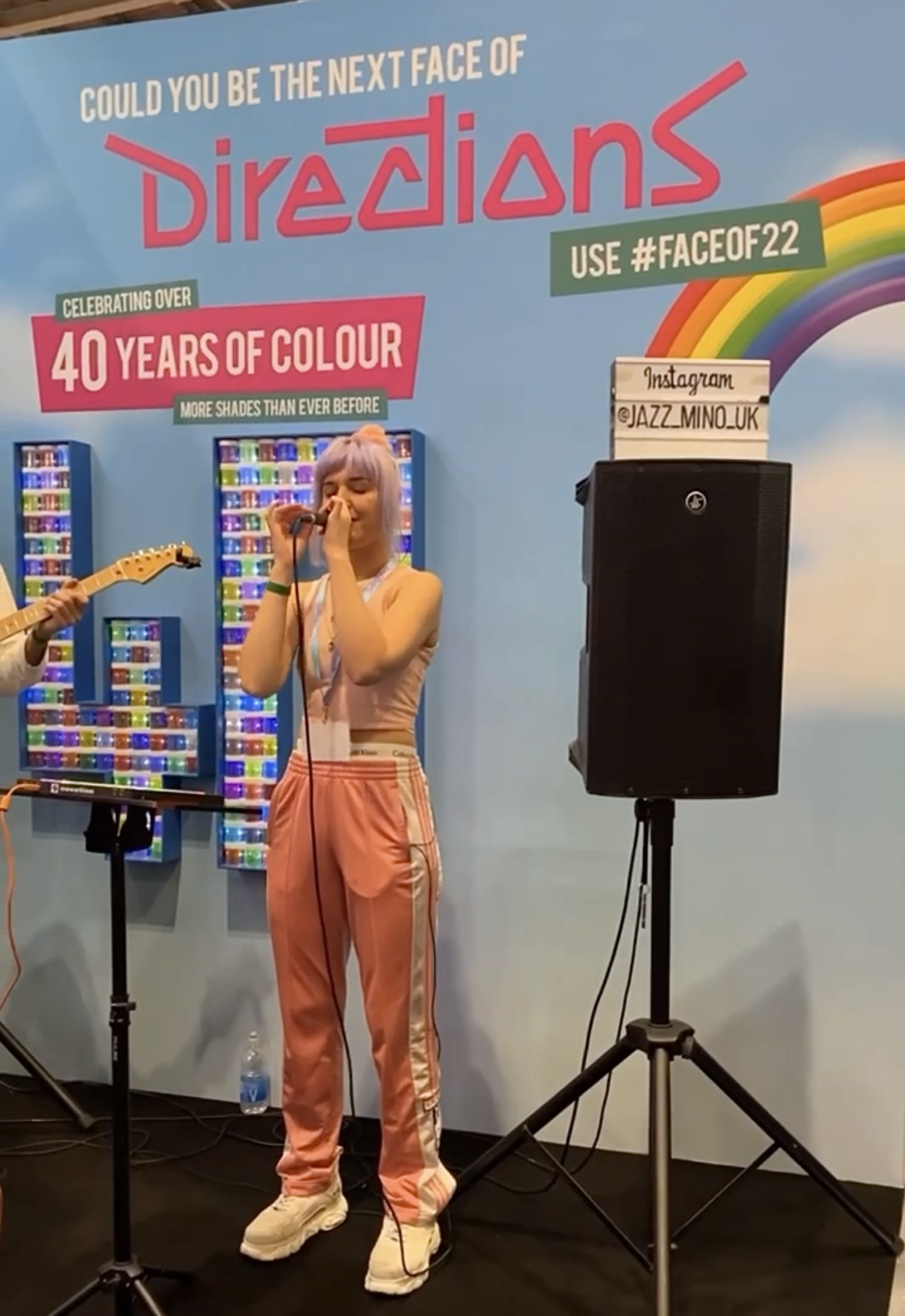 Celebrating 40 Years of Colour

Our 40th anniversary was definitely celebrated in style with all who attended Salon international this year. With our unmissable blue tote bags, goodies and giveaways galore, we're getting excited for the next event to celebrate with you all.
At Directions, bright and bold is in our DNA; just like in 2019, the Directions official stand stood OUT like it should and the team couldn't be more grateful to all those involved in creating such a show stopper. With our giant swatch chart and iconic emoji branding, we were so thrilled with the reaction it received from physical attendees, to you all interacting on socials!
Until next time...
It's not the first, and certainly won't be the last time you see us at Salon International, so make sure you don't get FOMO next year and come see the Directions team! You never know, it could be you up on that stand.
For your chance to be part of our rainbow community, continue to share your #faceof22 looks and tag @directions_hair_colour in your posts on Instagram or #Directionshair in your captions🌈